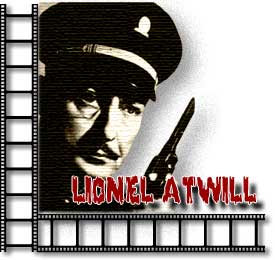 Lionel Atwill - Stage & Screen Actor:
Lionel William Alfred Atwill was born on March 1, 1885 in Croydon, England and was one of the most prolific character actors of the stage and screen. As a young man, Lionel Initially studied architecture at Mercers School in London but at age 20 he turned to the stage and was quite successful almost immediately.
In 1915 he came to the U.S. and appeared on stage with Lily Langtry. Lionel's film debut came as a silent bit part player in the 1915 film "For Sale and Eve's Daughter" In 1927, "The Jazz Singer" launched the sound era and Lionel Atwill was quickly typecast into villain roles and was especially fond of murder movies and horror films. .
He was married to: Phyllis Ralph, Elsie MacKay, Louise Stoltesbury, Mary Shilstone and Paula Pruter are, in fact, the same person, being Lionel Atwill Jr.'s mother's name from her first marriage.
When Lionel Alfred William Atwill passed away on April 22, 1946, he was survived by two sons, John and Lionel Jr.
---
Lionel Afred William Atwil - Final Resting Place: - Posted Article:
Byline; A. Atwill, Pacific Palisades, CA
How abouth that....., the only suviving son of; Lionel Alfred Atwill suddenly appear from the World Wide Woodwork, after " The Official Lionel Alfred Atwill " announces, The Late Great Character Actor's, Final Resting Place on their Web Site?
Lionel Anthony Atwill, only surviving Son, is quick to contact the Fanclub,
with a scathing E-mail Correspondence, filled with inflamatory statements and attempted to make veiled threats like; " Get into Big Trouble..." unless you complied to my outrageous Web Site Design Concessions and other Derogatory Brow Beating Demands.
Lionel Anthony was quoted to say: " I want my Father's Remains to be ship back to Vermont without any pomp or circumstance, where I can safely keep it, on top of my ornate fireplace mantle, miles away from the gawking tourist, parasitic film fans and grave robbers."
Lionel Anthony Atwill, immediaately petitioned the Los Angeles Superior Court To Have: Lionel Alfred William Atwill Remains Exhumed from The Chapel of the Pines ,..... and Immediately released tor shipment back to Vermount.
---
" Lionel Alfred Atwill "
Celluiod; Villian and Hereo:
Lionel Anthony Atwill has made it pefectly clear that he absolutely loathes the Glamorous Profession and wishes he could spit out the magical bright lights of Hollywood.
A Tinseltown - Shame on you Cousin.........





Lawyers and the Law A Filmography:
The Strange Case of Dr. Rx. Whodunit concerning the hunt for a mysterious character who murders criminals gotten off by an un- scrupulous lawyer. Lionel Atwill, Patric Knowles, Anne Gwynne, Mona Barrie, Shemp Howard, Samuel S. Hinds, Paul Cavanagh. d. William Nigh s. Clarence Upson Young Universal 64 min. b/w 1942
The Silent Witness. Melodrama of a man tried for the murder of a woman strangled, in fact, by his own son. Lionel Atwill, Greta Nissen, Weldon Heyburn, Helen Mack, Bramwell Fletcher, Mary Forbes. d. Marcel Varnel and R. L. Hough s. Douglas Doty—adapted from the play by Jack DeLeon and Jack Celestin.
Johnny Apollo 1940:
Wall Street broker Robert Cain, Sr., is jailed for embezzling. His college graduate son Bob then turns to crime to raise money for his father's release. As assistant to mobster Mickey Dwyer, then falls for Dwyer's girl Lucky. He winds up in the same prison as his father
IMDB LINK:
---
Film Career:
Though the years, Lionel had acquired a laundry list of film credits which includes: (1932) as Sir Austin Howard; "The Vampire Bat" in 1933 as Dr. Otto von Niemann; "Mystery of the Wax Museum" (1933) as Ivan Igor; "Secret of the Blue Room" (1933) as Robert von Helldorf; "The Solitaire Man" (1933) as Inspector Wallace in a change of pace role;
"The Sphinx" (1933) as Jerome Breen; "Beggars in Ermine" (1934) as John Dawson; "One More River" (1934) as Brough; "Nana" (1934) as Col. Andre Muffat; "The Firebird" (1934) as John Pointer; "The Devil Is a Woman" (1935) as Don Pasqual; "Captain Blood" (1935) with Errol Flynn, as Col. Bishop, proving his diversity;
"Mark of the Vampire" in (1935) as Police Inspector Neumann; "Til We Meet Again" (1936) as Ludwig; "The Wrong Road" (1937) as Mike Roberts; "The Great Garrick" in (1937) as Beaumarchais; "Three Comrades" (1938) as Franz Breuer;
"The Great Waltz" (1938) as Count Anton Hohenfried; "Son of Frankenstein" (1939) as Inspector Krogh; "The Three Musketeers in (1939) as De Rochefort;
"The Hound of the Baskervilles" in (1939) as James Mortimer, M.D.; "Mr. Moto Takes a Vacation" (1939) as Prof. Hildebrand; "The Secret of Dr. Kildare" (1939) as Paul Messenger;
"The Sun Never Sets" (1939) as Dr. Hugo Zurof; "The Mad Empress" (1940) as Bazaine; "Johnny Apollo" (1940) as Jim McLaughlin; "Boom Town" with Spencer Tracy and Clark Gable, as Mr. Harry Compton;(1940) "The Great Profile" (1940) as Dr. Bruce; "Charle Chan's Murder Cruise"(1940) as Dr. Suderman; "Man Made Monster" (1941) as Dr. Rigas;
"To Be or Not to Be" (1942) as Rawitch; "The Ghost of Frankenstein"
(1942) as Dr. Theodor Bohmer; "Pardon My Sarong" (1942) as Dr. Varnoff: "Sherlock Holmes and the Secret Weapon" (1942) as oriarty;
"Frankenstein Meets The Wolf Man" (1943) as Mayor of Vasaria; "Captain America" (1944) a 15 chapter serial, as Dr. Cyrus Maldor; "House of Frankenstein" (1944) as Inspector Arnz; "Fog Island" (1945) as Alec Ritchfield; "Crime, Inc." (1945) as Pat Coyle; "House of Dracula" (1945) as Inspector Holtz and his last film "Lost City in the Jungle" (1946) as Sir Eric Hazarias